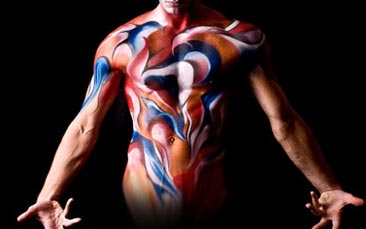 "No you can't take your finished art home with you!" Although you probably will want to as these hot bods really are a work of art.
This is live art. The median of body painting. It's exactly what it says on the tin, but these aren't just any bodies. These are gorgeous, hunky male models who will strip down to virtually nothing, leaving pretty much their entire body exposed for you and the girls to 'get creative' with. Stop giggling at the back, we don't mean that for you to 'get creative' in that way. Honestly! There's always one. Pffffff.
The session takes place in a private room or studio and your model can be stood or laid down to suit your finished masterpiece. Once you have inspected your canvas, you and the girls can chat to work out a theme or style for your painting. It would also be useful to decide who will be painting which 'bits'.
The friendly models are game for a laugh and happy to pose for photos with the bride-to-be or her hens before and after the session which can last anywhere between 1 - 2 hours depending on group size and how quick your strokes are. We mean 'brush strokes! Really, I'm not telling you again!
Groups of over fourteen hens will be provided with two models.
Body Painting works particularly well with Life Drawing. Having drawn individual pictures of the model during your Life Drawing Class you can stop painting his body and start PAINTING HIS BODY!!
Enjoy!