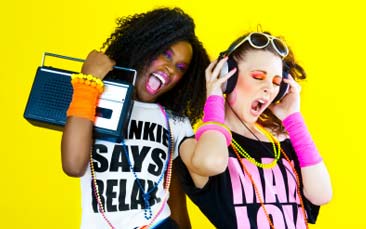 Big hair, leg-warmers, lycra, day-glo gloves; so much fab stuff was acceptable in the 80s. Plus it's a decade that gave us some of the greatest pop songs ever! In fact who doesn't love the 80s? If you just raised your hand, please go sit in the corner and Timmy Mallet and Pat Sharp will be along to deal with you shortly.

We've taken some of the best elements of this fabulous decade and squeezed them into a hen-tastic 80s hen party dance class, which will have all the girls dancing and singing along like a Bananarama tribute band!

"You want fame, well fame costs and right here's where you start paying... In sweat!"

Our dance instructors aren't quite as tough as Lydia Grant, (the no-nonsense dance teacher from the hit 80s TV show Fame) but they will teach your hen party all the moves to work into a full routine. It will be just like putting the steps together for an early MTV pop video (back in the day, when video killed the radio star).

This really is a fantastic addition to any hen party because girls really do just wanna have fun. Great music, mixed with an energetic workout and plenty of giggles. Plus you can bring your own 80s hen party fancy dress to get everyone really in the party mood.

We can also help you find a fantastically cheesy club with 80s tunes so you can step into the groove and try your new routine. Speak to our team about adding free guestlist nightclub entry where available.

Or how about getting the girls back on the dance floor for a re-enactment during the wedding reception?