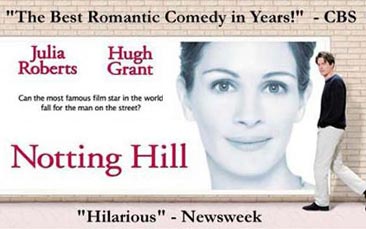 London is one of the most filmed cities in the world and has been the backdrop of some of the nation's favourite films and hottest movies of the last 3 decades. Four Weddings and a Funeral, Bridget Jones's Diary, About Time, Atonement, Love Actually, Sliding Doors, Wimbledon the list of great romantic comedies set in the capital reveals some the greatest romantic comedies ever. In fact, we'd be bold enough to say some of the greatest rom-coms of all time have London as their idyllic setting, revelling in hidden gems and quirks of this fantastic city.

Movie lovers will get up close and personal with sights they know so might not have found alone. And you'll be surprised how some settings looking so instantly familiar while others will take a few more seconds to bring into sharp focus as you pick out those details you'll know so well.

You'll visit the church where Hugh Grant escapes from a doomed wedding with 'Duck Face', in Four Weddings, you'll also have your picture taken outside the famous blue door that was home for Hugh, Julia Roberts and the utterly mad Rhys Ifans from Notting Hill. See where Bridget Jones lived where once again, Hugh Grant was in the thick of it, scraping it out with Colin Firth.

You'll be able to watch the scenes from the movies between visiting the actual locations, hear fascinating information on the locations themselves as well as little known facts from the movies.

If the bride-to-be is a movie-buff then this is most certainly an ideal day out in one of the most filmed and photographed cities in the world. You can even grab your smartphones and recreate some of those stunning scenes for yourselves as a memento of the day.

During the tour, you'll also take in many of London's most famous landmarks.