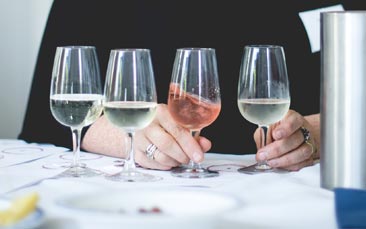 Oh, wine. What would we do without you? You're the perfect movie buddy, a shoulder to cry on when times are hard and that ever-so-slightly crazy girlfriend that can turn an average night into a great one. Good times.
But lately, with all the wedding planning, the distracted bride-to-be might've been neglecting her close relationship with the grape. Bad times.
It's time to change all that. With our hen party mobile wine tasting, a fun, friendly, expert sommelier will come to your accommodation and treat your taste buds to 6 delicious wines, including reds, whites and sparkling varieties. Between giggling fits, you'll learn all the proper tasting techniques necessary to really appreciate each vintage and tell the difference between a £5 and a £10 bottle.
Wine facts:
Wine was first discovered around 6,000 years ago
Drinking red wine in small doses is better than not drinking it at all
It's been scientifically proven that wine doesn't add to your waistline
'

Oenophobia

' is the fear of wine
'Novinophobia' is the fear of running out of wine
After tasting each wine, you'll find out where you can buy it for yourselves and you may very well find a new favourite bottle to look out for when you're next in the supermarket.
Then it's quiz time! Your vino knowledge will be tested and the hen who answers the most questions correctly will get the prize bottle of bubbly. So it very much pays to pay attention while you're tasting… *Sniffs glass* "I'm getting… Tipsy!"