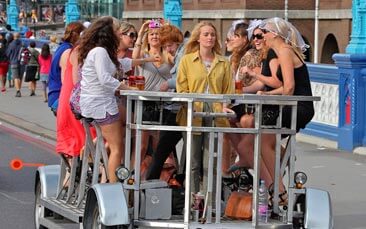 Looking for a new and slightly crazy London hen party experience? Torn between the fact that you fancy a few drinks, are all trying to stay trim for the wedding day and want to see some of the capital's incredible sights and landmarks? Well then ladies, it's all aboard the Party Bike!

This fantastic cycling machine is an absolute blast and the multi-seated bike holds up to 12 hens at once. But don't let the thought of "cycling" put you off, while it is a little gentle exercise you certainly won't be out of breath. You'll be out in the fresh air, moving under pedal power, enjoying the sites of 'old London Town' and, what's more, you can bring your own drinks. Yes, a few cheeky drinkipoos while out on the byways and highways of one of the world's biggest party cities. Beer, wine and cider are all allowed onboard (no spirits please ladies). It certainly beats being stuck on the Underground.

And you'll even stop off at a pub halfway.

If that wasn't enough, as well as a roof in the event of rain, the bike even has its own iPod dock, so you can blast out a few tunes on the move! Yes, this is one hen party activity that most definitely has 'party' written all over it. Throw in a few fancy dress costumes or perhaps a simple veil for the bride-to-be, your own tunes, a little bit of liquid refreshment (purely so you don't become dehydrated of course) and you will really see London in memorable and fun-filled style.
The fun won't stop there. Later that night you'll also get Guest List Club Entry at a top West End nightclub. Skip the queues and head straight into one of the hottest clubs in the heart of one of the world's greatest party cities!
So get set for a day of huge laughs and great tunes. Ladies... Your chariot awaits!