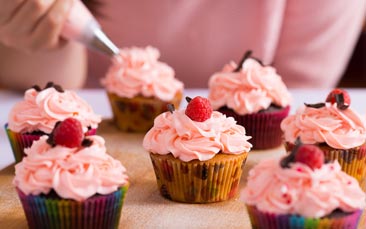 Cupcakes, they're the edible equivalent of a Paul Hollywood handshake. They just make you feel all warm and happy. But who wants to spend all day covered in flour, with their head in the oven. No thanks! We just want the fun stuff.
That's exactly what you get during this tasty activity. A friendly baking expert will be there to greet you and help you put the 'bonkers' in baking. You'll learn various hen party cupcake cake decorating techniques that you'll be able to use in the future. It's during this part of the activity that you can let your inner Nigella or Heston run free. You can create something arty, something trendy, something fun or something rude (we all have that one friend). It's for you to set the tone of your baking challenge.
But after all that hard work you might need a sugar rush? Well isn't it handy you've got a room full of cupcakes to enjoy?!? Either that or you can place them in custom made cupcake boxes to take home with you. And if you get thirsty you can buy a drink to accompany your cakey treats. Please ask our team about planning your drinks in advance if you want to be super organised. And just for the record, calories don't count during a London hen party (allegedly).