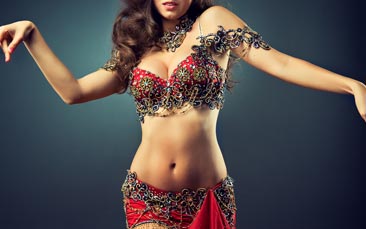 Do you and the girls love the unusual? Are you looking for a unique, exciting activity for your hen weekend that'll teach you a new way to "work that booty"? If so, our hen party belly dancing lesson is the perfect way to get you moving as you learn a new, very sensual style of dance. You and the girls will be mesmerised by the appeal of this eastern extravaganza.

The next time you hit the floor you'll be able to shock everyone with your awesome dancing skills. With this unforgettable dancing experience, you and the ladies will get a one-off event that's sure to be unlike anything most of the hens have tried before, making this a truly unique and memorable hen weekend.

This is the perfect choice for a bride-to-be who loves dancing and the idea of a unique hen activity that'll give everyone a fresh, fun experience. It's body rocking action that will have your girl gang giggling. With your expert instructor showing you all the moves in her exclusive performance before delivering her masterclass, even hens that learned how to dance by watching their Dad can soon shake their stuff with the best of them.

Our belly dance lessons are available in loads of locations, so wherever you decide to take your big weekend, you can pretty much guarantee that there's some belly-shakin' action nearby! It's a real crowd-pleasing, energising activity that the bride-to-be will remember for a long time after you leave, especially if you record the lesson to show everyone back home her undiscovered dancing skills!