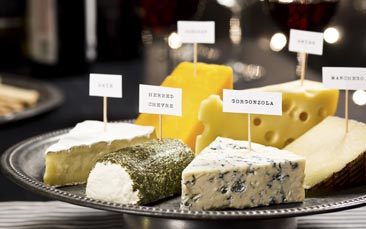 Food really is the new rock and roll, whether it's The Great British Bake Off, Jamie Oliver or Masterchef, cooking has never been trendier and we have all become "foodies" with a great palate and understanding of the finer things on offer.

If your bride-to-be is a culinary goddess with a passion for food and fine dining then our foodie activities are a great choice, especially if she has a weakness of or love for dairy goodness in which case Cheese Tasting really will go down a treat.

Our sophisticated and tasteful sessions are informative, interactive and professionally run by experts with a wealth of knowledge of everything cheese related, from the variations, how they're made, how to get the best of flavours, when to serve which cheeses and which drinks are best to mix with which cheese. Our expert even has a diploma in cheese. The depth of their knowledge really is astounding and for brides who love throwing a dinner party or two, or even just girls who have a taste for the finer things in life, then this is a relaxing yet incredibly interesting way to spend an afternoon after a big night out.

A typical tasting includes:
An informative and light-hearted guide about the history and culture of cheese.
Between 6 and 8 artisan cheeses to taste with bread, crackers, fruit and chutney.
You will be tested with a cheese-related quiz with prizes for the winners.
You will be able to take home personal tasting notes and information to take away.