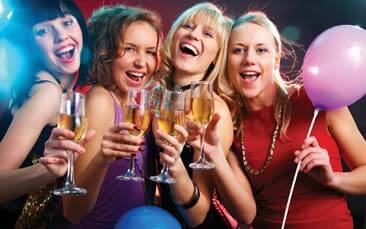 Our hen party bar and club pass is like Willy Wonka's golden ticket (minus the Oompa Loompas, unless you're doing fancy dress). We'll get you into all the best venues in town with guestlist entry. After all, this is your weekend and the bride-to-be's special celebration so you don't want to waste her time outside some unheard of nightclub with your new heels on.

Our destination experts will clue you up on exactly which bars you should be heading to. We regularly visit our destinations and know all the best clubs and bars. We'll help find themed nights, special offers and we'll let you know what kind of music is on offer too, so if it's cheesy dance floor fillers you're after we can get the girls on the dancefloor quicker than you can say "Abba megamix!"

Also, we've got our finger on the pulse of all the newest, most exciting venues in town to make sure you have the special night out you and the hens deserve. We know our destinations well; we never take things for granted so we always take the time to visit all our hen cities.

We can give you advice on transport, party buses, river cruises and more. All our venues are more often than not centrally located, so the next party is never far away. Once you arrive at each venue all you have to do is wave your passes or give your party's name to the doormen and you can walk right in the club like the A-list stars you deserve to be!