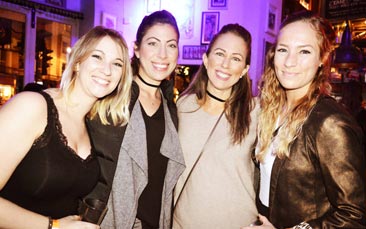 THIS is how you do the West End. You'll get special treatment all the way on what is sure to be a fantastic night to remember.
The fun kicks off when you're greeted by your own party host who will lead the way to the first of five top West End venues. Inside you'll have your own reserved table/area plus two bottles of prosecco or wine. A nice way to toast the bride-to-be. It's then time to crack open your pack of party extras (we're not telling you what's in it, no, you'll just have to wait and see).
These are great venues with top tunes, there's plenty of time to dust off those dance moves and get the party started. Yeah, you're all singing, all dancing hens, "We came, we saw, we partied". Plus, you'll be treated to a welcome shot in each bar. You're welcome!
On to the next venue. Your host will by now have all the hens joining in the laughs. You'll have fun and games with some suitably daft and surprising challenges.
In the final venue, you'll have a reserved table and a bottle waiting for you and there'll be photos taken throughout the night you'll receive later.