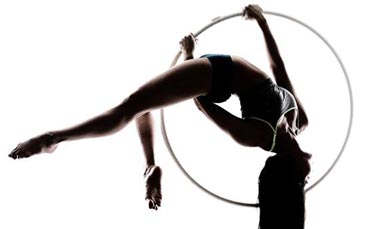 If you're looking for something totally different for the big weekend and something the girls are sure to talk about then our London hen party circus skills class could tick all the boxes... and hoops.
You'll head to a professional rehearsal studio used by artists from all over the world, hear an experienced instructor will show you some simply amazing skills that aren't just great fun, they're also an incredible workout (it's no wonder the performers you see on BGT always look so fit!). You'll be working muscles in places you didn't know you had muscles, it's also great for your core, abs and the old gluteus maximus will feel pretty perky the next day too!
But it's not all fun and games (well it kind of is really but bear with us...), after a group workout you'll then learn some of the most spellbinding circus equipment there is; the magical grace of silks, ropes and the hoop. It's amazing how much you can learn in one session and if you're fans of keep fit you'll soon discover just how addictive aerial training can be.
The studio you'll be working in is completely undisturbed so you can relax and totally go for it. You're also welcome to take photos and videos of each other in action. You can then upload them to Facebook or Instagram to show everyone else your amazing London hen party in full swing!
* Please make sure your underarms are covered for our aerial classes.