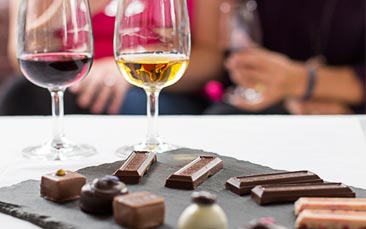 There are some things that were just meant to be together:

Strawberries & cream
Cheese & biscuits
Fun & laughter
Posh & Becks

But perhaps the best two words you can combine are "chocolate" and "wine", and this ever so tasteful hen party treat does exactly that.

We've paired a selection of scrumptious Rococo chocolates with dessert wines, red wine and fizz. Who doesn't like chocolate? And in our opinion, it is the perfect companion for a few glasses of fantastic vino. But this isn't just any old plonk, it's been handpicked by experts and sommeliers to give you perfect taste combinations which lovers of chocolate and wine or total foodies will love.

This indulgent session will allow you to tantalise your taste buds and learn some great foodie facts that you can apply to your own parties or elegant dinners shared with friends. And there's no greater way to learn this new nourishing knowledge than with a group of great friends ahead of a big night out.

You'll learn how to find the perfect wine match for white, milk and rich dark chocolate!

You'll also learn how cocoa beans are turned into chocolate and discover the different types of beans and chocolates. Who knew there were so many, but it could set you on a mission to track them all down until you've tried them all (although hopefully not all in one evening!). There's also a fun quiz to put your new-found know-how to the test.

GoHen have lined up fantastic venues across the country so wherever you're heading to you can tuck into this tasty session. And while you're pairing your drinks and choccies, why not pair this fantastic experience with a little Guest List Nightclub Entry so you can finish your night in style?