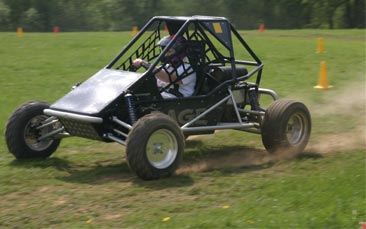 It is true, sometimes girls just want to have fun, but there are times when girls want to totally kick-ass and this fantastic multi-activity site really will let the girls go wild and try out some heart-thumping, fist-pumping action.

Tucked away from the big smoke in the beautiful Surrey countryside (it's posh round there) this superb facility has plenty of action to choose from. You can select 2 or 3 activities for the bride-to-be and her friends to cut loose on.
Rage Buggies - Four-wheel fury, all-terrain vehicles. These are the Tasmanian devils of the racing world.
Clay Shooting - "Go ahead punk, make my clay" Big bang clay target shooting.
Hovercrafting - Incredibly hard to steer, almost impossible to stop, this is motoring at its hilarious best.
Archery - Just like Robin Hood, challenge the girls to some bulls-eye accuracy.
Powerturns - Brilliant little racing machines that require some serious hen teamwork to get from A to B.
Max Cats - These perfect little buggies are totally amphibious all-terrain vehicles, designed to go anywhere, and we mean anywhere.
Quad Biking - Four-wheeled bikes that will literally eat up any tough terrain.
These adrenaline-fuelled challenges are sure to get all the hens buzzing and bring out their competitive natures. A great day out and the perfect way to ramp up the fun on the bride-to-be's big weekend.

PLEASE NOTE: This activity could be cancelled in extreme weather, an alternative activity or refund will be offered.