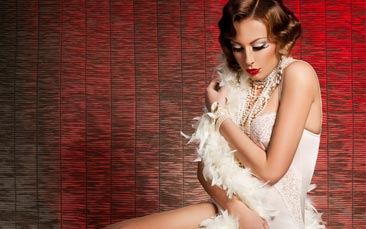 When you think of burlesque you think classic, French, sultry, sexy, risque, stage showmanship and the ability to hold your audience spellbound? Hen party burlesque lessons are a celebration of female allure, not only are they a great workout but they are brilliant fun.

You and the girls will learn this vintage sultry art form and be transformed into vamps with a range of teasing and artistic moves, so remember to take your cameras. With all things vintage now being very much in vogue, burlesque has seen a massive resurgence in recent years. You might have even heard of the "queen of burlesque," Dita Von Teese, and you'll certainly remember the sensual theatre in the movie Moulin Rouge. As a hen party activity, a Burlesque session is extremely memorable for all the right reasons, it's rare and perfect for a special occasion, the troupe will love it!

Decadent, sexy, cheeky, a little bit daring, and often hilarious, hen party burlesque lessons are fun for all the right reasons. And some of the wrong ones too!

You'll start with a few moves and the art of striptease and finish with a complete sizzling routine that you and the girls might even take home to titillate in the bedroom. You can certainly have plenty of fun joking about what the blushing-bridegroom will be in for on his wedding night.