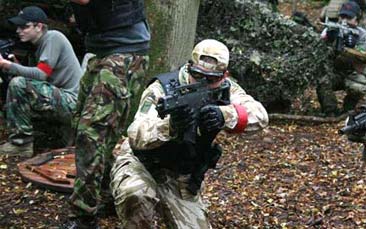 Planning a wedding can seriously feel like organising a military operation at times, just ask the bride-to-be! But if you and the girls fancy taking your hen army onto the battlefield for the ultimate combat experience, hen party laser warfare is not one to miss. Put on your war paint and show everybody your battle cry, it's time to fight!

This is definitely one for girls who see a bit of themselves in Xena, Warrior Princess. You'll take to the best battlefields in both the UK and abroad where you'll discover your inner G.I. Jane. There'll be no stopping you and the hens as you run, jump and blast your way around these fantastic courses.

You'll be getting your hands on a variety of laser weaponry including guns and grenades; you'll need all your sharpshooting skills to eliminate the enemy. Are you up to the challenge? You and the girls will take each other on in a range of games that could include capture the flag, hostage rescue, bomb disposal and more.

You and the ladies will really be kept on your toes as you try to outwit your fellow hens. You'll really need to work as a team if you're going to finish the day as queens of the battlefield in this furious, fun competition.

Hen party laser warfare is truly an awesome day out. If you and the girls are looking to have a load of fun shooting at each other, but don't fancy being covered in paint and bruises, this is for you. It's full on combat fun, and it's sure to get all the girls giggling!