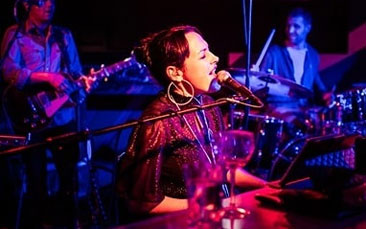 If you're looking for an alternative night out without a veil or 'bride-to-be' badge around, this is it. A fantastic evening of good food, good music and good friends.
This is definitely not your average hen night and is a touch of class to what is sure to be a fabulous weekend. The special treatment arrives the moment you reach the venue, rather than joining the queue (you don't want to waste time standing in line during a hen weekend!), we'll arrange guestlist entry so you'll be waved inside. Once the hens are assembled you'll be shown to your reserved table and each served a glass of bubbly.
All the tables have 'song requests slips' and the audience is encouraged to shape the evening and challenge the various bands and artists with song choices. Sometimes they'll mix up styles and have fun with your recommendations. The venue attracts some of the best working musicians in London as well as hilarious drag artists, comedy bands and West end singers, a great mix of the best London sounds.
Options are seasonal but may include:
Starters
Quinoa Goats Cheese Salad Roast carrot, onion, toasted nuts and seeds.
Shrimp Taco Charred corn salsa, shredded cabbage, chipotle and mayonnaise.
Sweet Potato & Black Bean Tostada Charred corn salsa and cashew cheese.
Buttermilk Fried Chicken California style BBQ sauce.
Chicken Caesar Salad Shredded iceberg lettuce, bacon and brioche croutons.
Mains
Ribeye Steak 220g, 28-day aged steak, chips, slaw and a choice of sauce.
Pan-Roasted Salmon Cayenne, seasonal veg, crushed new potatoes and red pepper sauce.
Pulled Pork Mash, braised greens and 'slaw.
Cornfed Chicken Truffle mash, seasonal veg and mushroom sauce.
Smoked Cauliflower Olive oil potatoes, braised greens and 'slaw.
Bean Chilli Rice, nachos and cashew cheese.
Desserts
Key Lime Pie
Coconut Fruit Bowl
S' mores Chocolate Brownie
Banana Split
Sorbet