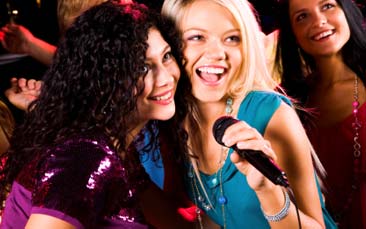 You don't just have swag, you rock! And it's time to prove it. All those hours you spent in your bedroom as a kid copying your favourite girl bands is about to be put to good use as you battle it out in one of the freshest and funniest hen party activities ever. The sequined gloves are off in this battle of the divas.
It's time for big attitude, big moves and even bigger hair. Friendships will go out the window, no more Mrs Nice Bride, it's all about winning and there's no points for second best. That's right sisters, it's time to get the lippie and game faces on and show them how it's done. Ultra-competitive hens (you know who you are) will simply love this.
The action all begins when you choose the two tunes your teams will be lip-syncing to (each team will have their own song to perform). These could be two of the nearly-wed's favourite songs or favourite artists. The dance instructor will choreograph a routine for you which the teams will learn. So as well as needing to remember the lyrics you'll also be performing a full routine. You'll soon be "shakin' what yo momma gave ya!" as you give it some extra sass.
After the whole group have learnt the routine it's time to let battle commence. The teams will take it in turns to perform before the coach decides the winning team.
It's time to let that hen party lip sync battle begin!