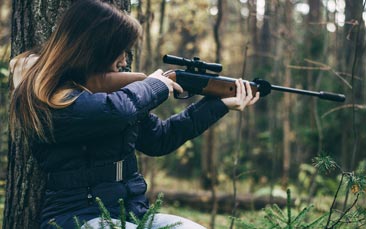 We know, organising a wedding can be ridiculously stressful. There's simply too much going on for one bride to sort out, it can be hard to even decide what to wear in the morning, let alone what music you'll have and what caterers you'll choose. It's a genuine dilemma, and the bride-to-be will inevitably bring a small percentage of that bridal angst with her on the big weekend.

So give her the perfect gift, rifle shooting will give the stressed-out bride-to-be the perfect chance to release her pre-wedding rage on a series of stationary targets, rifle in hand. This really is the activity you never knew you needed, shooting a rifle is an exhilarating experience, and it's sure to get pulses racing and competition flowing amongst the girls.

With experienced instructors on hand at all times, the playing field might end up being more level than you'd expect as even girls who've never held a gun before can soon turn into sharpshooting queens as they receive some top tips for success.

All the girls are bound to have a ball here, rifle shooting is easy to learn and difficult to master as although the targets aren't moving, you'll still need a crack shot to hit the bullseye and score the most points!

Tired of pink feather boas and sparkly 'L' plates? Hen party rifle shooting is the perfect antidote for both the tomboy bride-to-be and just about any girl who's ready show off her undiscovered shooting talents in a fun and friendly competition.