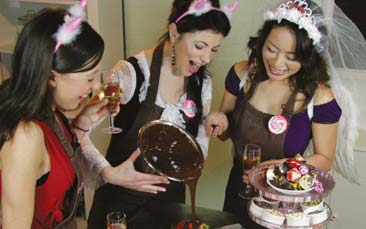 Who doesn't love tucking into a bit of their favourite treat after a hard day at work? We certainly do, that's why with our London hen party chocolate making we'll treat you and the girls to the complete chocolate making experience. You'll learn the history of your favourite chocolate types and how to infuse chocolate slabs with flavour to create your own sumptuous treats.

Using chocolate classics like praline, truffles and ganache with a healthy dosage of giant marshmallows you'll really have to try and resist the urge to lick your fingers, bowl or even the table and anywhere else you've managed to spill chocolate. You and the ladies will learn some sweet skills you can try yourselves when you're back home like a true chocolatier as well as having a lot of laughs while you do so.

Our London chocolate making is led by an expert chocolatier who will be there with you every step of the way to answer any of your questions and to help you regain your composure if you do find yourself in a chocolatey daze. You also get to sample the very purest 100% chocolate. Yes... 100%! If your mouth isn't already watering, it soon will be once you get a whiff of the deep, rich coco-infused smell of the chocolate-making kitchen.

Perfect for a bride-to-be who's a self-confessed chocoholic, our chocolate making in London is certain to give you and the girls an afternoon of chocolate luxury before your evening activity, why not try cocktail mixing to carry on the fun DIY theme you've started with? After all, you deserve to treat yourselves on your London hen party.