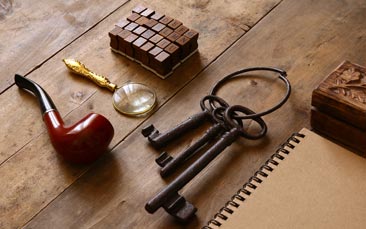 London is a city that's full of hidden surprises, just 100 yards from the British Museum lies a little known and seemingly innocent building which is an old, abandoned reputedly haunted film studio. This is the venue for one of London's most thrilling hen party experiences. Enter it... go on... double dare you...

Our retro-themed London escape room is all about wits, brainpower and a will to survive. On arrival, you'll be briefed on the strange goings-on at 'Secret Studio Films' which had a bad reputation back in the day and hasn't made a movie since leading ladies did nothing but scream and faint. Now it's time for your own leading ladies to take centre stage.

You'll enter the main studio and the door will lock firmly behind you, you then have just 60 minutes to escape before you find the term "director's cut" takes on a whole new meaning. Littered around the studio, you'll find old props and movie and office equipment, any of which could hold the key to saving a series of puzzles and problems in order to escape.

The game is atmospheric and will really unite the hens together for some canny teamwork as you outsmart your captors and escape. Only then will you make it through to your own hen sequel, where hopefully you'll spend the night out dancing, sipping cocktails and generally being fabulous... of course you need to escape first.

You have just 60 minutes...

And the clock is ticking...

Ideal for hens looking for something different and exciting for their London hen party. Our escape room will challenge you in all kinds of ways and test your lateral thinking, brainpower and teamwork to the max. Are you ready to face the escape room?