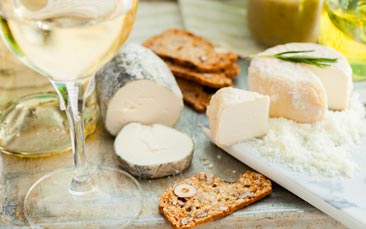 Fish and chips.
Strawberries and champagne.
French and Saunders.
Some partnerships are just meant to be.
Wine and cheese really are the perfect marriage and a fitting way to celebrate the union of such a perfect couple. If the bride-to-be is partial to the odd drop of plonk and the occasional nibble, then this really will appeal to all her foodie sensibilities.
OK, hands up, here at GoHen we consider 'perfect taste balance' to mean having a glass in one hand and a wedge of cheese in the other, but there is so much more to it (who knew?). Well, apparently our friendly wine expert knew, and they will share their knowledge with you, giving you a real insight and arming you with foodie/boozie knowledge on:
Wines
Cheeses
Matching the two
The taste difference when you actually match the perfect flavour combination is fantastic. Your Netflix marathons will never be the same again. You'll also put your newfound skills and taste knowledge to the test with a fun quiz and a bottle of bubbly for the winner.
Best of all is the whole shebang will come to you. We'll arrange for the tasting to take place at your self-catering accommodation. It's also a wonderfully understated and sophisticated addition to your hen weekend.
Learning knowledge about two of her favourite things, while consuming a selection of her favourite things, surrounded by some of her favourite people... It's the perfect pre-wedding treat for any bride-to-be.