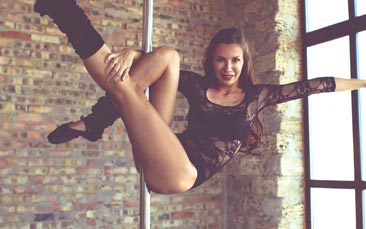 It's fun, healthy, a little bit off the wall and totally hilarious (there's no way you can do pole dancing without a fair amount of cheeky hen party banter), all in all, pole dancing is the perfect fit if you're looking for giggles on your big hen weekend in London.
Considered to be one of the best keep fit classes on the market, pole dancing will work muscles in places you didn't know you had muscles, it'll also teach you a few sultry moves to take away with you. Plus the whole session takes place in a private mirrored studio.
The session will begin with a relaxed group warm-up to make sure everyone is suitably limber. You'll be taught by an experienced pole dance expert who'll show you a full routine before breaking things down and teaching you some of the individual moves so you'll soon be gripping, sliding, climbing, slides, inverts and more. She'll take you through various pole dancing techniques and sexy floorwork moves to create your own personalised routine - a confidence boost you and your friends will be proud to show off.
But if that wasn't already enough to go home and dazzle and sizzle the man in your life, you'll also learn a few lap dance moves. It's all very cheeky, a little bit adult but totally fantastic fun. You'll also be able to get photos and videos of the girls working on their routines, probably best not to upload them to Facebook without everyone's permission, "What happens in London, stays in London" and all that.