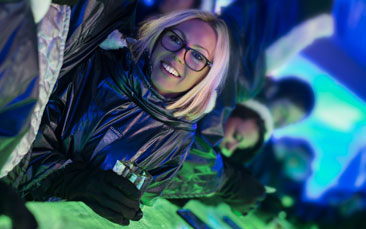 This is one of the coolest nights out you'll ever have. Our London hen party ice bar is sure to provide big laughs and gasps as you step into one of the most unique drinking experiences you're ever likely to come across.

This is the UK's only permanent ice bar, making for a one of a kind night out where you'll get some fantastic hen party photos as well as seeing the incredible interior of this simply beautiful bar. You and the girls will spend 40 minutes (the maximum time allowed) inside this spectacular winter wonderland. Carved out of ice all the way from Northern Sweden by a team of designers and sculptors, this is a fantastic venue for any hen party to visit before continuing on their big night.

You'll collect your tickets on arrival and get your thermal poncho featuring gloves and a hood on. The next step, of course, is to grab a few selfies or maybe take your own team photo of all the girls wrapped up. It's then time to step inside and see the beautiful ice sculptures inside the bar alongside ice bars, ice walls, even ice tables even the glasses are made of ice! This is perfect for a bride-to-be who loves the unexpected and it's sure to be a hit with the girls before you head out on that big night!