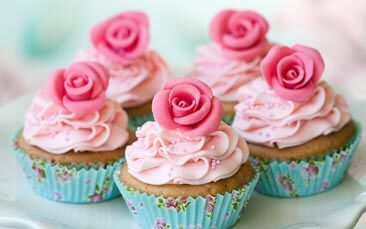 Have you ever watched people decorating their bakes on hit show The Great British Bake Off and thought, 'I could do better than that!'? If so, this hen party cake decorating class is perfect for your group as you'll really be able to get hands-on and try decorating your own cakes with this fantastically crafty workshop.

Cupcakes are very much back in vogue these days, with many brides opting for cupcake towers rather than traditional wedding cakes. And many are even baking their own or getting guests to join in the great wedding bake-off to help create wonderful displays of cupcakes. So why not get ahead of the curve and learn the ins and outs of decorating these little pieces of sugary heaven?

You'll have your own expert cake decorator to get you all started on adding some flourish to your own creations with a host of different techniques. But all this decorating can be thirsty work, so why not enjoy a spot of tea or, if you fancy more of treat, a nifty glass of prosecco. You'll be set in a private beautiful tea room where you can enjoy this civilised afternoon treat, to chat, gossip and celebrate in style!

When it's all over, you'll be able to take your lovingly crafted cupcakes home with you, which will be perfect for an afternoon snack or something to munch on after a great night out during your big weekend. Our cake decorating class hen party is a great laugh that's sure to go down well with the girls, almost as well as a lovely bit of cake!