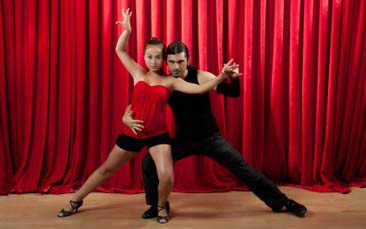 Feel the Latin rhythms and vibes take over your body as you take a fantastic lesson in super sexy salsa dancing. Our expert instructor will take you through the moves, get ready to twirl, twist and shake those hips! Salsa dancing is a real group pleaser and it's the perfect way to bond with hens who you might not know so well. Learn some fabulous moves and put together a smouldering routine that you could even perform at the wedding reception if you really wanted to wow your nearest and dearest.

Your experienced instructor will warm you all up before teaching you the basic salsa steps. Even if you've only ever learned how to dance from watching your dad dance at weddings and birthdays, with the help of our super-friendly tutors you'll transform into a salsa dancing diva in no time.

After you're all clued up on the basics, you'll need to perfect them pretty quickly as you'll be learning an exciting and energetic salsa routine. This really is a fantastic group activity that will very quickly get the girls giggling as they shake their hips like Shakira! Whether you're a total beginner or a salsa extraordinaire, you'll have a simply amazing time with your favourite family and friends.

Our salsa dancing is available in plenty of our destinations as well, so whether you're heading to Bristol or Barcelona you'll be able to get a taste of this fiery Latino dance!