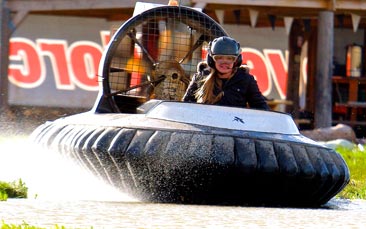 On the spectrum of unusual hen party activities, hovercrafting is on the more extreme end, as one of the most bizarre, bonkers ways to spend your day with the girls - and it's good fun too! Controlling these incredible machines is challenging enough, but add in a friendly, competitive element between you and the girls, and you're on to a winner - let's just hope your driving is too! Hovercrafts are one woman amphibious machines that can travel over both land and water at high speeds, so even in a land-locked city you might be able to give them a go - and they're available in plenty of our top locations, so wherever you're heading, there may be a high quality venue nearby.

The unusual nature of the hovercrafts means the girls probably haven't tried them before, giving the ladies a brand new experience as well as a great afternoon out. Fast paced action on a multitude of terrains means you and the girls are guaranteed the ride of your life!

The nearly wed won't be worrying about table decor and whether the starters will go down well when she's sliding around the hovercraft track sideways, desperately trying to go in a straight line. You'll all have a blast! No hen hovercraft session should be complete without a fantastic group selfie with the girls and their unusual vehicles to remember the day by.