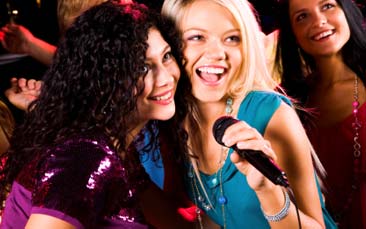 Does the bride-to-be love a good sing-song? Be honest, you've probably all heard the special girl singing at some point. Whether it's in the car during a traffic jam or in a night club when her favourite tune comes through the speakers. So, on her big weekend why not let her show her lungs off as she belts out all her favourite ballads with all her favourite friends?

Our karaoke bar hen nights will do just that; this is hilarious fun that's sure to get all the hens involved as you dance, clap and join in with the bride-to-be as she performs an awesome selection of her favourite tracks. Of course, she won't be the only girl on the mic, if you can manage to wrestle it away from her once she's unleashed her inner pop diva that is!

You'll get to choose from 1000s of songs, so whether you're a fan of Lady Gaga, Taylor Swift or even the more classic Whitney Houston, you're sure to find something you love! With your own private room you won't need to worry about bursting any eardrums either, so sing it loud and sing it proud, hens!

Karaoke hen nights are seriously fun and it's a great way to celebrate any weekend of bridal mayhem. If you've got a girl-gang who maybe don't know each other so well, it makes for a fantastic ice breaker. So, get those drinks in, strike a pose and get ready to Shake It Off, because you're Simply the Best!