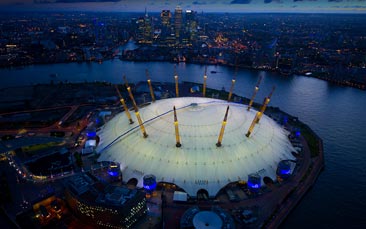 This certainly isn't your average hen party experience, this is a rare and limited opportunity to climb a piece of London history. You'll be taking on one of the world's most iconic structures on the kind of activity that you won't just be talking about all weekend, but for years to come!

After meeting the guides you'll suit up and get hooked to the safety lines, then you will start scaling the outside of this incredible building. This is a physical test so your group will need to be in relatively good shape. Climbing the O2 is more than your average workout but it really is a hugely rewarding challenge that will make the bride's London hen party truly memorable and create a special memory to share with all her closest friends.

Did you know..?
The O2 is so tall, you could fit the Great Pyramid of Giza or the Statue of Liberty inside!

Once you reach the top, the views are possibly the finest in the whole of London. Not only will you be standing on world-famous building but you'll be able to see the entire city of London and pick out some of its most celebrated landmarks. Putting aside for a moment the huge sense of achievement from tackling the monumental climb, the view is nothing short of breathtaking and an opportunity that few people will ever get to experience.

This is a truly epic experience and a memory the whole group will treasure for many years to come. The perfect addition to any London hen party that is looking for something a little bit special.

PLEASE NOTE: In extreme weather conditions, the event might be cancelled. If this is the case, you will be entitled to a rescheduled date or a refund.
*To take part in the activity you must;
Be at least 1.2m tall.
Weigh less than 130kg.
Have a waist measurement less than 125m.
And an upper thigh measurement less than 75cm.