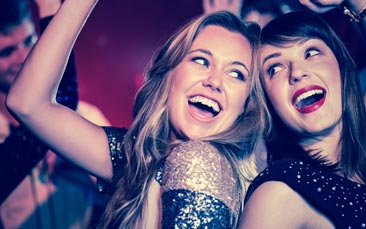 Nobody likes queuing to get into a nightclub, it takes up vital dancing time. After all, this weekend you are hens on a mission, out for the best time in the biggest and best clubs and that's exactly where we'd like to help.

Visiting a new city can be a bit daunting and while you can do a little online research to find the bars and clubs you'd like to visit ahead of time, there's nothing like a recommendation from someone who REALLY knows the city.

All our Destination Managers know their cities, keeping in touch with the latest bars and clubs to open. Our team can guide you towards the top venues in town to let your hair down. And once you've decided where you want to go, we'll take away any need to stand waiting for the folks in black jackets and hi-viz armbands to let you inside.

With our VIP Nightclubbing, we'll ensure your names are on the guest list so you can bypass the furry red rope and be waved straight inside with a warm welcome. In some venues, we can even arrange reserved seating so you can cool your heals between marathon sessions on the dance floor.

Whether you're looking to squeeze in some cheesy retro tunes, go all out old skool or you're after big sounds with top-notch DJs, tell our team the type of music or venue you're after and we'll line up a choice of great venues.