Despite being England's second city, Birmingham is possibly the most underrated city in the country and that's to your advantage. The city offers great nights out, high standard accommodation and great hen activities from cheerleading to cocktail making to a recording studio and pole dancing. And that's not even touching on the pampering, adventure or shopping!
10 Most Popular Birmingham Hen Activities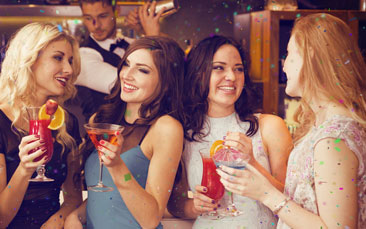 Your guide to hen activities in Birmingham
Fast becoming one of the most popular hen destinations in the whole of the UK, offering up high standard accommodation, a huge range of great activities and a top nightlife. There's a whole lot to try in Birmingham, but having activities booked up is a really great way to keep things completely stress-free and with our fabulous range, you'll be well and truly spoilt for choice…
Dancing Divas
Dance-based activities get hens of all ages up and moving and there are so many options for your time in Birmingham. Whether you're a bunch of prima ballerinas or have several pairs of left feet between you, it's all about having fun and giggles with your best friends at one of our fabulous dance activities! If you want to try out something a little different, give fantastically flash Bollywood dancing a try. Shake it to all the biggest hits of Indian cinema and learn some beautiful and traditional moves. A must for fans of the classic girlie flick, learn to dance just like Johnny Castle and baby in Dirty Dancing at our expert-run class - perfect for the wedding dance floor! Cheerleading is one of our most popular activities and is a great laugh. Learn how to shake those pom poms like a pro and create your own personalised cheer for your bride-to-be.
Pop Princesses
Birmingham has nurtured many musical talents over the years, including dreamy Duran Duran, Toyah Wilcox and the prince of darkness himself, Ozzy Osborne! You can play pop star for the weekend too when you visit this vibrant city, with many new musical activities on offer which will make you and the girls feel like true VIPs. Think you've got the X factor? Even if you're not too sure, our recording studio activity is a barrel of laughs, where you and your friends can belt out a couple of your favourite songs and then leave it to the experts to tune everything up (phew) and make it sound perfect for a CD to take home! If getting in front of the mic sounds a little intimidating, how about making your own pop video? Get all the most recognisable moves to your favourite music video down and rock out in front of the camera. Pick up the resulting DVD at the end, which makes perfect material for the wedding reception. If you're looking for a little dance floor inspiration, transform yourselves into modern pop legends LMFAO and get wiggling - because you're all sexy AND you know it!
Awesome and Active
Chilling out and relaxing is a really important part of any hen party, but consider including an active outdoor activity within your weekend too. It really helps to bring everyone together and give the girls a chance to try something totally new and different! If you fancy go karting, Birmingham is the place to be, with a top of the range track and powerful karts to really put all of your driving skills to the test. It's snow joke, skiing or snowboarding on a dry slope is really, really fun - if you've never tried it before or are feeling a little uncoordinated, there are highly qualified instructors around to help and minimise the amount of time spent on the floor! Great for letting out aggression, our off-road karts hen activity allows you to rev up those engines and drive an extreme off-road vehicle around a varied course. Get those hearts pumping and see who really is top dog behind the wheel!
Beautiful Birmingham
When you're not busy zipping around in go karts or acting like a pop star, Birmingham has a lot to offer during the daytime. We could hardly suggest hanging out in the city centre without mentioning the Bullring shopping centre, as it offers some of the very best retail therapy outside London in its futuristic new silver-decorated building.
Book your Birmingham activities with GoHen
If you're looking for a really wide variety of activities and a lively city, Birmingham is the place for you. A big, bright bustling multicultural party hotspot where there's always something going on, we have so much for you and the girls to choose from. Try out the 'Birmingham Belter' package if you fancy accommodation, a recording studio experience, dinner, casino and nightclubbing all in for a top price!