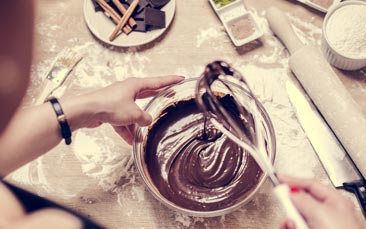 People always refer to chocolate as a 'guilty pleasure', what we want to know is why anyone would feel 'guilty' about chocolate!? At GoHen we love to pay tribute to our favourite treat and we know many hens feel the same, which is why our chocolate making hen party is a hit with so many hens.

Not only will you and the girls get your hands covered with the creamy goodness of liquid chocolate during the class (as well as your faces if you decide to dive into the bowls; we don't blame you) but you'll also be able to go home with the knowledge of how to make the perfect handmade chocs for dinner parties or just to have it all to yourself with a glass of wine and a chick flick.

After learning about the history of everyone's favourite treat you'll learn how to make Belgian truffles by hand using raw ingredients before learning how to temper chocolate. You'll also make and flavour ganache and other chocolatey treats that the bride-to-be will surely love! Our chocolate making hen party is perfect for hens who fancy getting some hands-on experience with their favourite sweet treat before getting ready for the evening. To carry on the theme of sweet treats, why not try our wine tasting in the evening?