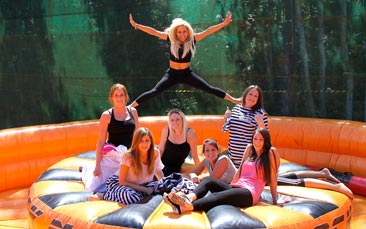 Inflatable Assault Course

If you're looking for something completely unique and hilariously unforgettable for your friend's special weekend away, then our Birmingham hen party inflatable games are just the ticket. This is one for hens with a sense of adventure, a competitive spirit and a healthy appetite for laughter.

Has the bride-to-be ever watched Total Wipeout and said "I'd love to try that?" Well now's her chance in a complete knockabout hen party tournament of laughs, leaps and the occasional fall with wickedly funny consequences.

If we were to sum up our inflatable games... It's basically a boot camp for lunatic hen parties. Perfect!

High Rollers

Needing perfect poise and balance this is great for toning up your core, if only it wasn't for your pesky opponent. Oh well, looks like you'll have to make sure she takes one for her team... "See ya!"

Bride Wars

What happens when bridesmaids collide? It's going to get messy... but mostly very funny. This is boxing inflatable style so there'll be far more laughing than lumping. This game is brilliant for all the hens watching as well, but just who will go head to head with the bride?

Phony Pony Hopper Racing

Do you remember 'My Little Ponies'? Well now they are huge ponies and it looks like they've been eating spacehoppers. Still, not time to reminisce, you need to ride 'em cowgirls on this ridiculous race. Bounce/rock down to the end of the track, first team to cross the line wins!

Sausage Racing

First of all both teams need to open their legs and straddle the wobbly sausage. Of course before any racing can begin you're now going to have 5 minutes of shocking innuendo. Still, it's not everyday you get to ride a 6 metre frankfurter... Nope... We can't help it... We've just turned into Miranda Hart!
Rocca Rolla

Test your nerves of steel on a rotating platform where you'll do battle with a fellow hen while discovering if years of wearing high-heels has given you any more balance. This is a hilarious one on one activity that'll have you singing 'you spin me right round, right round, like a record baby...'
Space Hoppers

This is a serious blast from the past as you go back to your carefree days of bouncing youth on the back of an inflatable space hopper. It's a classic race that's sure to result in plenty of nostalgia as you bounce, boing and (occasionally) roll your way to the finish line.
Disco Dome

Party like it's 1985 in this neon day-glow inflatable disco dome with colourful lights and a very bouncy floor. It's essentially the adult equivalent of a children's bouncy castle and while there isn't a bar with a cute guy behind it, you really don't need a daiquiri to have fun in here!
Footpool

Bend it like Beckham in this game of pool with a footballing twist. Although you'll want to be more David than Victoria this time round.