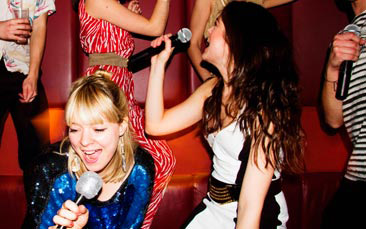 Hen party karaoke? Who wouldn't want to spend an evening with their best friends, laughing and singing along to the best (and cheesiest) songs ever recorded? You can have your very own hen party karaoke system set up at your self-catering accommodation so you and the girls can really let rip!
A professional karaoke mixer or computer
300w pro speaker
2 Wireless or cabled microphones
TV monitor displaying the song lyrics
Over 20,000 karaoke tracks
Mix of musical eras and genres
Delivery, set up & pick up
Full instruction
This is a fantastic way to get the party started!
You can belt out everything from the latest chart hits to those guilty pleasures songs that we all love so much. With over 20,000 songs to choose from, there are no end of great hits for the bride-to-be and her newly formed girl band to scream along to. It'll be like your very own hen party rock choir!
And, of course, there are some classic hen party karaoke tunes you simply must sing:
Dear Future Husband - Meghan Trainor
Another One Bites The Dust - Queen
Crashed the Wedding - Busted
White Wedding - Billy Idol
We Are Family Sister - Sledge
Single Ladies - Beyonce
Girls Just Wanna Have Fun - Cyndi Lauper
It's Raining Men - Geri Haliwell
Dancing Queen - ABBA
Not every hen party wants to spend the night in a busy club, your own hen night karaoke party will keep the laughs and the music going all night long in the close confines of your own select group of hens. All together now..."At first I was afraid I was petrified..."
Please note: Hen party karaoke is suitable for self-catering accommodation and private venues only.