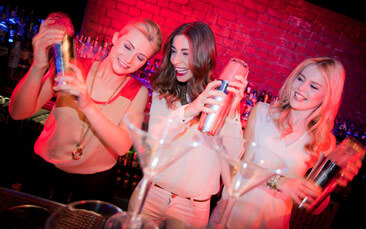 Do you know your Mojitos from your Manhattans? Well now's your chance to prove it! In this interactive cocktail masterclass, you'll learn to master the art of mixing as well as sampling the fruits of yours and each other's labour!

Hen party cocktail making is tried and tested and by far one of our most popular hen party choices. The perfect way to kickstart any evening out with the girls. Laughs, learning and cocktails. What's not to love? A sure-fire winner that will put the bride-to-be at the centre of the action.

To turn your fantastic afternoon into a great night you can also line up a two-course meal**. What's more, we'll arrange it in the same venue, so once your session is over, rather than have to go hunting for somewhere you can all get seated, we'll have a table waiting for you. If you then want to go on to a club, we'll make sure you're on the guestlist to avoid any queues.

On arrival at your cocktail masterclass, our professional mixologist will greet you all, and give the group a brief history and introduction to the trends and tricks of cocktail making. Then you will get behind the bar and start making them for yourself with our mixologist keeping an eye on how you're all shaking up. You'll also have some team challenges where the more competitive among you can lead your team to create the best cocktails.

This is a great activity as the whole group will be able to get fully involved and join in the making and, importantly, the sampling. Everyone can try their hand at mixing a little something and you can make non-alcoholic cocktails for anyone not wishing to mix their drinks so to speak.

* Added Extras: Why not add a two-course meal to your cocktail session?
** This may not be available in all locations. Please speak to a member of our team for more details.