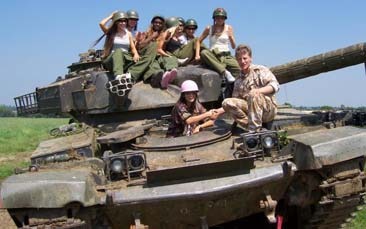 Whether the bride to be is a regular Lara Croft or simply fancies herself as the hardy outdoorswoman, there are few better ways to kick off an action-packed and adrenaline-fuelled hen weekend than with an explosive activity like tank driving.

Forget everything you know about driving stick shift and abandon all traffic rules as you enter your mammoth, fully armoured run around for a half or full day of all-terrain, large scale hen mayhem! With roaring engines, thick metal plating and tracks instead of wheels, these weighty giants can take a lot of getting used to.

Once your tank driving crew have mastered the controls you'll set our custom-built course ablaze as you rumble over challenging hills and conquer obstacles that would halt the progress of a city car. When you're done at the course you'll want to take 'shortcuts' in your everyday commute though we wouldn't suggest driving through hedges and through brick walls in the Ford KA.

This is the perfect way to distract the nervous nearly wed from all things wedding related and gets the adrenaline flowing for a big night out on the town later on! Driving a tank makes for an unforgettable activity and you should pose on top of your gargantuan tank for the perfect hen party group selfie to remember the day by!