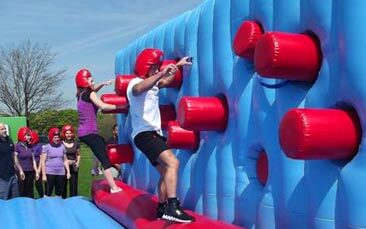 If you're looking to take the girls on some of the most exhilarating action you can find on your big weekend away in the heart of the midlands, then this is going to be perfect for you. Our Birmingham totally wiped out experience is an unforgettable way to spend an afternoon. It's filled with laughter and it's definitely one for hens seeking something a bit unusual/totally bonkers.

This big and bouncy activity day is a cross between TV's Total Wipeout and It's a Knockout and will see your party pitted against rival teams tackling whacky inflatable challenges. As you've probably already seen, these are designed for maximum hilarity, and they're sure to bring out the best in all the girls as you cheer each other on to success!

The games might change due to weather or availability, but usually, you'll face:

Big Red Balls: Leap from big red ball to big red ball in a desperate race to the finish... beware though, if you fall into the water you'll be heading right back to the start!

Tricky Trunks: Shimmy across giant inflatable tubes in a head-to-head race... with hanging obstacles trying to stop your progress.

Drop & Drift: Race down a foamy slide and score points based on how far you can go. Sadly there are no bonus points for 'loudest scream'.

Obstacle: Forget everything you know about obstacle courses, this is just crazy. There are plenty of surprises here!

Sweeper Arm: This is fabulous fun; don't fall off your pedestal as giant rotating arms will attempt to sweep you off your feet.

Punch Wall: Try not to end up punch drunk as opponents push inflatable rods through the wall at random intervals, try to scramble across without getting knocked off...

On your totally wiped out experience, you're sure to have an absolute blast. The girls will love this, and the bride-to-be is sure to feel a massive sense of accomplishment on completing the course, making it the perfect addition to your Birmingham hen party.