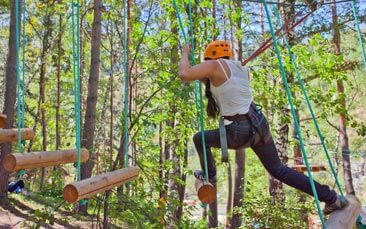 Hens with a head for heights will love every second of this aerial adventure course. High ropes is perfect for bringing your girlfriends together and breaking the ice between any unfamiliar hens. When you're in need of a little friendly encouragement to make that next leap of faith or could use a reassuring hand on the back to spur you through a high up obstacle course, this is hen bonding at its very best.

Don't expect to be swinging through the trees with grace and ease from the very start of your day, there'll be fumbling and shaky hens aplenty. By the end of the day, however, you won't think twice about stepping out onto a precarious rope bridge. This is a day for the nearly wed to forget about flower arrangements and table decor; any lingering wedding worries will be quickly extinguished when she's faced with a hair raising, high altitude assault course.

The hens will arrive at the high ropes course for a safety and instructional talk before being sorted out with harness and setting off on their challenging high ropes session. From then on it's a half-day test of steely nerves and action-packed hen mayhem.

We'd recommend ending your day with a few drinks at ground level to settle the nerves and chat about the day's funniest moments.