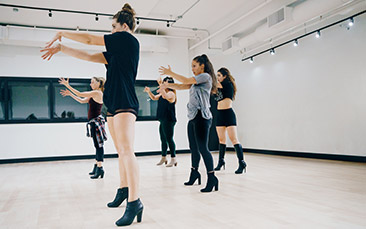 "If you like then you should have put a ring on it..." It's virtually impossible to think of Beyonce's phenomenal hit single without wanting to sing along ("Woah oh oh ohoho oh!"). But as we all know, it simply isn't the same without Beyonce's classic booty-shaking moves. And now all you 'naughty girls' can get on the dancefloor and learn the whole routine under the guidance of a top dance instructor.

While the bride-to-be might be 'crazy in love', this weekend is all about the girls and a chance for the nearly-wed and her hens to let rip and share plenty of laughs. Undoubtedly there'll be plenty of music, dancing and laughter during the hen weekend and this fantastic dance class brings everything together perfectly while allowing you to learn the full routine from Beyonce's top-selling 'Single Ladies'.

The dance instructor will start off by getting you all limbered up to ensure there are no pulled muscles. You'll then work through the entire routine, learning it in sections before backtracking and adding each of the sections together until you can perform the whole routine flawlessly from beginning to end. You'll work at your own pace to ensure none of the hens are left behind or having to simply freestyle as the rest of you freak out. It's also a fantastic workout so prepare to get physical.

This cracking girl power anthem has become a staple at wedding receptions across the UK, but wouldn't it just be superb if the bride could lead her hens on the dance floor and surprise and delight all the guests with a full rendition of the routine?

"All the single ladies, all the single ladies,
All the single ladies, all the single ladies,
Woah oh oh ohohoho.
Woah oh oh oh..."