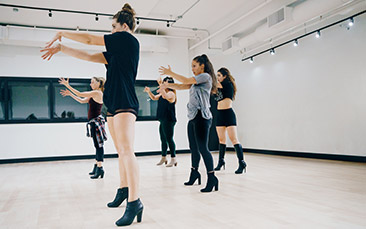 If you want to learn some killer diva dance moves, then who else are you to look to but the dancing, singing, booty-shaking Goddess that is Beyoncé? There's really no other way to celebrate the bride-to-be's last weekend as a single lady than nailing the iconic dance routine to Beyoncé's top-selling floor-filler, Single Ladies!
Now Put Your Hands Up!
Under the guidance of a top dance instructor, you'll learn the full routine step by step until your pump walks, dips and wrist flicks are on fleek! You don't have to be a complete dancing pro, just channel the diva attitude of Queen B and you'll soon be 'crazy in love' with this awesome Beyonce dance class!
I Got Gloss On My Lips!
You've got your girls, you've got the sass and, quite possibly, you've got the bouffant hairdo, all that's missing is a little guidance, which is where your professional choreographer comes in! Once you've limbered up and finished fighting over whose gonna be Beyoncé (it's got to be the bride), the instructor will gradually take you through the whole routine.
I Can't Care What You Think!
Broken down into simple sections, you'll work at your own pace to ensure none of the hens get left behind. You'll be strutting your stuff flawlessly before you know it! Then you'll piece it all together and ace the whole dance. As well as spending quality time with the galdem, this is a fantastic workout, so prepare to get physical!
Whoa Uh Oh Uh Uh Oh Oh Oh!
This class is a brilliant way to break the ice and celebrate the bride-to-be's last weekend of freedom before he 'puts a ring on it'. You could even put your new moves into practice later that night when you're 'up in the club (club)' and wow the dance floor with your show-stopping routine. Or, better yet, surprise the wedding guests on the big day will a full rendition! 'Now put your hands up'!