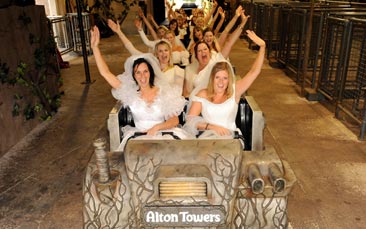 The world-famous Alton Towers Resort needs no introduction - it's a Mecca for adrenaline junkies worldwide! It's also an absolutely superb setting for a hilarious hen party, particularly if your group is partial to white-knuckle fun.

Your day ticket allows unrestricted access to all the rides and will be able to enjoy over 50 attractions at your own pace.

Including:
Th13teen - The only freefall drop rollercoaster in the world. We suggest that you hold on tightly, this is one hell of a ride!
Air - In a prone position over an 840-metre long track and reaching up to 47mph, Air replicates the feeling of flight in a white-knuckle experience.
Oblivion - Don't look down! This is the world's first vertical drop rollercoaster, with a 180-foot fall. Not one for straight after lunch.
Nemesis - With unexpected twists such as a vertical loop, two corkscrews and a zero-g roll, Nemesis measures over 700 metres long and can reach speeds of up to 50mph...
Rita - The last word when it comes to speed, as you hit 60mph in a scarcely believable 2.5 seconds, feeling the full force of 4.5G. Not for the faint of heart!