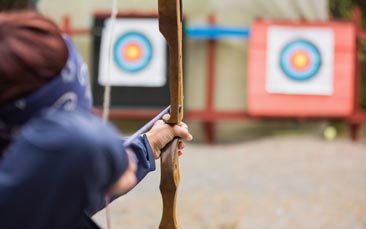 This isn't Hunger Games so there's not quite so much pressure to hit the target. However competitive hens will love archery. It's a great sport that anyone can try and with a little tuition you'll all soon be on target and we've got expert instructors on hand to point you in the right direction (or at least get you pointing at the target).

As well as fantastic fun, really competitive hen party archery is a test of poise, precision, and nerve. While stag parties might like blasting things out of the air we prefer something a little more classical, refined and poised and archery is just the thing. You can then settle who is Legolas, who is Katniss and who is merely Maid Marian (we'd go with Legolas, we'd kill to have hair that long and glossy).

As well as deadly aim and a keen eye, archery requires balance, confidence and accuracy. Of course, you can up the fun for all your merry maidens by adding your own prize to proceedings as well as a forfeit for the loser/s.

Archery is also a budget-friendly option and can make a great addition into a wider weekend of fun by combining it with another activity at one of our many activity centres across the UK. You could even create your own survival mini masterclass for any bride-to-be who has a minor Bear Grylls fixation.