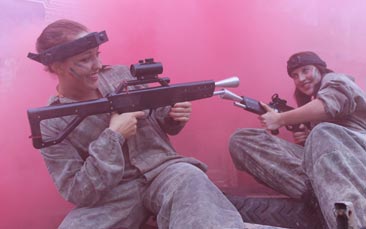 Action movie fans and die-hard games enthusiasts can now take on a truly adrenaline-fuelled challenge to answer a real action Call of Duty. In fact, whatever adventures the stags might think they are having, they'll be nothing compared to the sharpshooting thrills and spills laser combat offers.

The aim is simple, fight in teams across award-winning movie-themed battle zones containing 200 acres of bunkers, trenches, Stargate themed templates, military vehicles and Vietnam based villages. You must achieve the objectives laid out in each challenge by planning your strategy and tactics with your crack squad whilst keeping all your team in one piece.

Using lightweight laser assault rifles that allow you to pick out your targets as far as 150 metres away you'll soon find out which hens are top guns and who has nerves of steel in a crisis. Your state-of-the-art weaponry will also inform how many lives and how much ammunition you have left, as well as letting you know if you have successfully hit an opponent. Take that!

For the hugely competitive hens among you (yes, you know who you are) there are a number of game scenarios during the course of the afternoon so plenty of time to win crucial victories or score points back on pesky opponents that shot you in earlier games.

Throw in hot food and a drink and this becomes an unmissable option for hens looking for a thrilling non-contact adventure. The real question is: when it comes to the scenario of a heated battle, is it all for one and one for all? Or will it be every hen for herself?