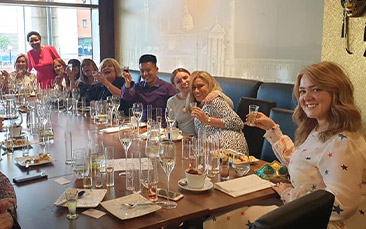 No hen do is complete without a tasty tipple, and prosecco is the most celebratory boozy bev of them all! What better way to toast the bride-to-be and kickstart the party than this special, sophisticated and utterly delicious Birmingham hen party Prosecco Brunch!
If the bride-to-be and her fellow hens are fans of prosecco (and who isn't!), then she'll be in hen-do heaven here! This brilliant, swanky bar boasts eight different types of prosecco, and with our hen party brunch deal you'll enjoy one whole hour of bottomless, (yes, bottomless as in endless, infinite, unlimited!) prosecco. So you can taste as many as you like! Because that's the kind of luxurious treatment you deserve on your big weekend away.
This elegant Italian restaurant offers a wide range of authentic Mediterranean small bites, known as Cicchetti, which pair beautifully with a sparkling glass of prosecco and tasty hand-made pizza cooked in their stone-baked pizza oven. Just like the bride-to-be and her fella, Italian dishes and the restaurant's signature proseccos are a match made in heaven! If you're not sure where to start, the friendly staff are more than happy to give you their expert recommendations and find something to please your refined palate!
As the meals are all prepaid, you don't have to end the meal fussing about and going all Rachel Riley with the bill. All you need to bring is the girls, your healthy appetites, and possibly some extra cash for drinks once your bottomless hour is up if you're still thirsting for more! Sit back and relax in the outdoor seating area as you take in stunning views of the canal and enjoy a taste of Italy….
Brunch Menu
Avocado Toast with Poached Eggs - Avocado, 2 poached eggs, rocket, chilli flakes on ciabatta toast
Bottega Bacon Sandwich - Pancetta and back bacon on toasted bloomer bread
Bogota Sausage Sandwich - Sausage on toasted bloomer bread
Pancakes - With a choice of toppings
Fresh Fruit