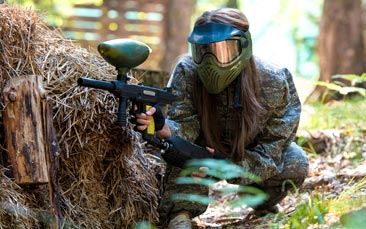 Paintballing is one of the most popular activities you can get up to on your big weekend, largely because it's guaranteed to work out any pre-wedding tension! Bride-to-be slowly transforming into a bridezilla? SPLAT. Bridesmaid refusing to wear the dress? SPLAT. Mother-in-law meddling with the seating plan? SPLAT.

Even if your wedding isn't a hotbed of petty frustrations and resentments, there are still plenty of reasons to choose paintballing. It's energising fun for groups big or small, and it's a fantastic way to have a load of laughs with your favourite girls! Even if you are getting frustrated with a few members of the wedding party, there are no hard feelings in paintball. This is a fun, friendly competition that's sure to create some unforgettable memories on your hen do.

Hen party paintball is available all year round, and we've hunted down only the finest venues both in the UK and in Europe, so you know you'll be getting the best paintball experience possible on your weekend away!

Compete for points either by yourselves or in teams by eliminating the enemy with your high pressure paintball gun. Whether you fancy taking on an indoor course or an outdoor warzone, paintball is a great way to fire your hen weekend off to a winning start!