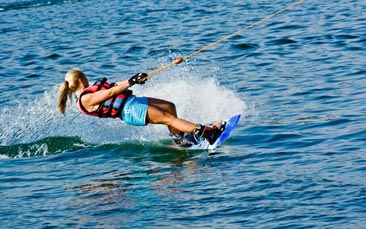 There's a reason our Birmingham wakeboarding centre is so popular: it's absolutely pitch-perfect thrill-seeking hen brilliance! Whether you're a water sports pro-athlete or not the strongest of swimmers, our expert instructors will help guide you hens to success out on the water and have you wakeboarding like the very best of them in no time!

With each of the hens getting half an hour of one to one tuition with the experts, they will all be riding the waves and pulling off tricks in no time. You won't be being towed behind a speedboat either, which is good because high power boats kick up a lot of wake which can make it hard to stay upright. At our Birmingham centre, you'll become board masters by using a 170-metre straight line cable for a cleaner, easier for wakeboarding beginners surface to tackle.

There will also be a series of challenges and obstacles to conquer such as the delightfully named 'Spine Kicker' to ensure that your hens get a unique wakeboarding experience like no other! The cables offer the opportunity to float out plenty of hilarious and punishing obstacles that wouldn't be possible while wakeboarding behind a boat, which makes this a totally unique venue.

Thrill-seeking hens will absolutely adore wakeboarding. It's a fun, white knuckle challenge for all the hens and is a great way to kick off your Birmingham hen party.