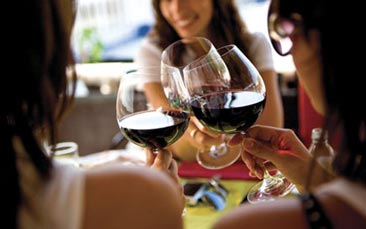 Wine tasting is an elegant addition to any hen party and a very civilized way to combine the girls and the grape! Under the guidance of our wine experts, you'll get to sample a number of wines and learn more about the different grapes, matching the correct wine with a meal or simply gain a greater understanding of your favourite tipple.

Our exclusive wine tasting sessions are both educational and interactive, offering you the chance to experience the basics of wine tasting and wine appreciation.

During your session, you can expect to sample a range of fantastic wines and learn to tell the difference between a £3 bottle and a £20 bottle. Never again will you dither over choosing a dinner party gift! Events can be tailored to suit individual preferences and experience. Please remember to drink responsibly!

Some of our destinations also include a tour of the vineyard and a look at the winemaking process. And it goes without saying there will be plenty to sample or even take home with you. Well, we wouldn't want you going thirsty.

This is a fantastically fun and informative session that adds a touch of class to the hen party and could also give the bride-to-be a chance to source wine for her own special day. We'll drink to that!

Please note: a £50 group deposit required at time of booking.