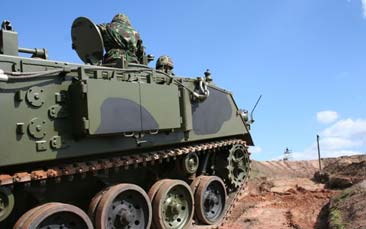 Prepare for all-out warfare! What do you get if you mix 2 of the most popular adrenaline-fuelled hen activities, paintball and tank driving? Simple, the perfect in white knuckle, adrenaline-pumping, heart-pounding hen activities: Tank Battles!

Once kitted up our fully trained instructors will give the obligatory but very necessary safety briefing before leading you out onto the field. You'll begin will some training in the art of driving one of these real-life war monsters, with and without your periscopes, ensuring each team member has mastered the art of aiming and loading the cannon. Once proficient and up to speed, it's time to get ready to rumble for full-on paint fuelled warfare!

You and your thrill-seeking hens will take it in turns to negotiate the tricky tank course, which is set in a World War II bombing range, in one of our 15 fully armoured FV432s fitted with beastly turrets and our fantastically powerful 40mm paintball cannons before engaging in full-blown warfare! You and your 2 comrades will be responsible for driving, loading, aiming, firing and of course the total destruction of your opponents.

The hen won't be thinking of seating arrangements and embarrassing speeches when she's got the enemy in her sights and is ready and waiting to obliterate her foe with a whopping 40mm paintball cannon. Our tank battles session is the perfect way to kick off the action-packed hen weekend.