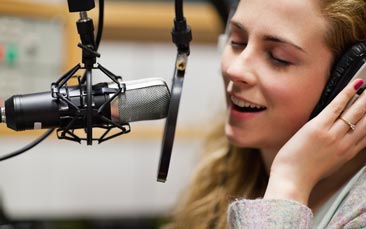 The bride and her hens are on the dancefloor when suddenly, much to the bride's surprise, it's their own voices that hit the airwaves!

A fantastic way to have fun with the bride on her wedding night and a superb activity for the hen party. Whether the bride and her party are car journey crooners or X-Factor hopefuls with stunning voices that would make even Simon Cowell sit up and listen, our Birmingham Recording Studio package will make the whole party feel like stars for the day as you lay down your vocals with the help of our brilliant professional studio engineer. And if you want to be truly rock and roll you can take along a bottle or two to help "relax" you.

With an incredibly extensive back catalogue to pick from, ranging from the classics to the latest chart hits, you will be spoilt for choice. If you don't all know all the words then not to worry - you will have a lyric sheet and a few run-throughs to get you familiar with the track. Once you are happy with the performance then it's time to mix the track and get all the levels right to ensure your efforts will have a future prime spot in your record collection, as you will all be taking a CD home of the finished product which will make a great surprise addition to the wedding reception playlist.

It is no surprise that recording studio parties are one of our most popular hen activities - it is equal parts relaxed, fun and creative. It is also perfect for the whole group as no experience is necessary... but we are sure you have had years of practice in the shower in preparation for this momentous day!