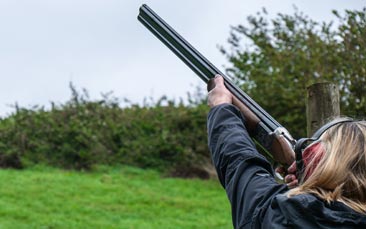 If you're looking for hen party action that is a real break from the norm, then you're certainly looking in the right place. At GoHen we're huge fans of clay pigeon shooting which is becoming increasingly popular with hens looking for new challenges.

Under the guidance of a qualified instructor, you'll be shown how to handle the shotguns safely and just how to pepper the sky with clay dust as you blast those pesky pigeons to smithereens. But animal lovers need not worry, no birds of the feathered variety will be harmed during the event. It's also really green with traditional plastic waddings being replaced with card and biodegradable targets.

This is a hugely exhilarating event for hens that have always wondered what it's like to fire a gun, and they don't get much bigger than 12 bore shotguns! Like miniature canons they'll make light work of the targets, it's just a matter of getting your aim right.

Competitive hens can go shoulder to shoulder with their comrades in a competition and it's something we're very good at, Team GB have won huge shooting honours around the world over the past decades in world championships and the Olympics, so who knows, maybe you'll uncover the next women's gold medallist within your hen party. Typically it will be a 20 or 50 clay competition depending on location and group size.

This is a perfect activity for shooting newbies and something to tick off the bucket list. It's also a budget-friendly option that can be added to any hen party package in destinations throughout the UK and Europe.

The rush really is addictive too, and you'll have plenty of time to get stuck into the complete clay shooting experience with between typically 20 and 50 clay targets to shoot at during your session depending on your preferences. It'll also include stands like sporting, teal, high bird and the Olympic trap. All explained in depth by your experienced instructor.

Hen party clay pigeon shooting is fun, loud and incredibly addictive, the sheer thrill of hitting that first target will have you screaming for more. So ready? Aim? Fire! And contact our team today for a hassle-free quote.