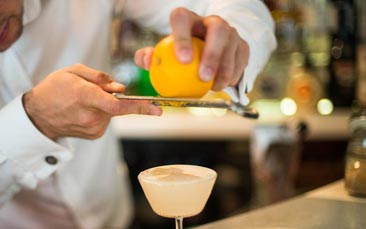 Needed a little extra sparkle while getting ready to hit the town? Our superb cocktail making class will come to you, to help get your party started.

Professional mixologists (that's the fancy term for cocktail bar staff) will arrive at your accommodation with all the kit to get a great night underway. Once set up, they'll make each of the hens a gorgeous cocktail before telling you a little more about the session.

Once all the pleasantries are out the way it's time to get down to the serious work of drinking! Well, actually you've got to get mixing but it all amounts to the same thing. The cocktail wizards will show you all how to mix two fizzy cocktails using everyone's favourite ingredient. It's then your turn, you will, of course, need to sample the fruits of your labour as you work, purely to ensure you have the delicate balance of flavours right of course.

Once all the hens have mastered the mixes, you can then raise your glasses and toast the bride to be in fitting style. The masterclass lasts around two hours and is a wonderful addition to your South West weekend and will be a welcome visit to your lovely hen accommodation. After all, who wouldn't want to see a hunky cocktail barmen turn up on their doorstep with bottles of spirits to be drunk?!?

"Bottoms up!"