It's no secret that Newcastle is one of the UK's top party destinations, but did you know there's a huge range of daytime hen activities to choose from too? Combined with world-class nightlife, you're all set for an incredible time in one of the most exciting cities in the North! Geordie girls are well known for their glitz and glam, so treat yourself to a facial, manicure or pedicure to get everyone looking just as good for a night out on the tiles.
9 Fantastic Newcastle Hen Activities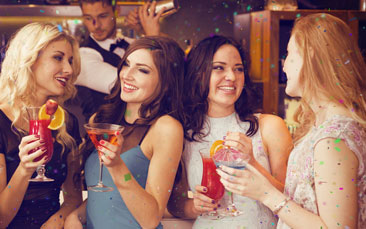 Your guide to hen activities in Newcastle
Pop Princesses
Want to feel like celebrities? Our Newcastle hen activities offer so many ways to work it like Britney, Madonna and all your favourite pop stars. Nothing bad about it, our thriller dance activity is such a great laugh and is a fantastic way to get all the girls wiggling together. Boogie along to all your favourite MJ hits and then learn the iconic zombie routine - whip it out on the dance floor or, better still, at the wedding reception! Alternatively, the pop star party on offer in Newcastle gives you the chance to perform like a variety of your favourite music stars in a selection of sassy routines as taught by a professional instructor. Ever dreamed of performing in the Glee club next to Rachel Berry and Mercedes Jones? Okay, so we can't actually transport you to William McKinley High, but our Glee dance activity is as close as it gets. Dance along to Don't Stop Believing, Vogue and Single Ladies and make your bride-to-be's musical theatre dreams come true!
Awesome and Active
Getting active on your Newcastle hen party is a really great option to consider, as it's perfect for keeping everybody involved, breaking the ice and making some amazing memories. Not just for the kids anymore, hula hooping is a brilliant activity to try out - Newcastle knows how to move! Get those hips twirling in this activity which will open your eyes to several new ways to work out with hoops. Get dressed up in jangly, sparkly togs and give the eastern tradition of belly dancing a try. A fully qualified instructor will help you all master the best moves in Bollywood which are ideal for something a little different on the wedding dance floor. If getting muddy is more your style though, let rip on a top of the range quad bike, negotiate a varied track and see which of your friends is the biggest speed queen!
Weird and Wacky
If you're serious about giving your girlfriends an activity experience they'll never forget, there are plenty of totally different ideas out there to try. If you're not afraid of getting a little bit messy, our inflatable games activity could be just right for you. Hurl yourself over huge jumps, slippery slopes and generally laugh yourselves silly in a series of totally hilarious games! Human table football is quite possibly one of the wackiest and silliest hen activities out there. Whether you consider yourself a golden balls or have no idea what the offside rule is, only being able to move horizontally whilst trying to maintain a game of footy is utterly hilarious and will get all the girls in fits of giggles! If you'd like to try out something different but would rather do so in a more relaxed and genteel setting, life drawing has just the right amount of cheekiness, with a male model included as standard. Even if 'stick man' is your preferred artistic style, this chilled out activity is always a hit with ladies of all ages.
What else?
Newcastle is buzzing 24 hours a day, so finding something to do in between activities is a cinch. A look at the river Tyne and striking Tyne bridge is a must when in Newcastle and presents a totally iconic view of the city, as does the incredible, modern Gateshead bridge, which tilts majestically at regular intervals. If you fancy a bit of shopping, the Central Arcade is a beautiful Victorian building which houses pretty old and new shops and will please the girls no end. Visit the Biscuit Factory for a good nosey at some top local art and a chance to buy it too, or catch some quality live talent at 36 Lime Street. It's a city that never sleeps!
Booking your Newcastle hen activities with GoHen ...
Newcastle consistently comes up as one of our top hen party destination choices, because there really is such a huge amount going on. We have an amazing list of daytime activities to choose from, so whatever your group is looking for, we have something to suit. Learn some sultry steps on the 'Tyne of your Life' weekend, which involves a dirty dancing session, a trip to the spa, dinner and guest list clubbing too. Newcastle really does have it all and you'll be able to make it a real weekend to remember here in the north east!